CISN Nets Over $39k in Online Tickets and Season Passes to Sports Streams
Sports production network, CISN (Central Iowa Sports Network) covers a variety of local high school sports for several schools in Iowa and the mid-west. They previously had been streaming games on YouTube but needed a more reliable platform that supported multiple streams as well as a way to sell online tickets.
ViewStub's ticket bundling enabled them to sell season passes, private access to VIP content, in addition to individual game access. It also ensured secure access for paying fans through single-use access codes. As a result, they streamed 99 games in the first 2 months and sold 2,097 tickets/season passes. They also offered on-demand replay to continue selling after the live games.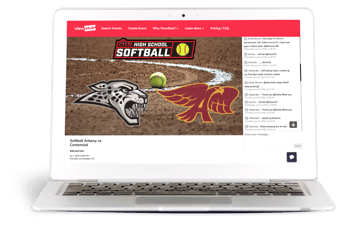 ViewStub enables sports organizations to sell online tickets and season passes for professional quality game broadcasts.
Website: cisn.tv
Location: Des Moines, IA
Streams local high school and professional sports events to Central Iowa.
CISN (Central Iowa Sports Network) is a sports production network that covers a variety of sports for several schools in Iowa and throughout the mid-west.
Their sports streams include original game coverage, pre- and post-game shows, coaches' interviews, in-home workouts, and other news and sports information. Their streams are made available over the internet through computer or mobile device.
99
Games Streamed in the First 2 Months
2,382
Tickets/Season Passes Sold
The Challenge
CISN is no stranger to live streams. They had been hosting game coverage for local high school sports on YouTube for several years. They were exploring the idea of monetizing specific team coverage as a way to cover overhead, deliver more value to sponsors and support local teams.
When the pandemic hit, the priority shifted to providing a reliable platform to continue broadcasting sports for fans who could not attend the games in person. At that time, they also wanted to offer tiered ticketing where fans could have the flexibility to purchase general admission, VIP access or a season pass ticket for their events.
The Solution
ViewStub's white label solution – their branding on their website

Advanced ticketing to sell season passes or individual games

High-quality streaming, supporting multi-camera streams

On-demand replay to continue selling games, after the live game

Sponsorship packages – logo placement and sponsor video spots

Affiliate links for sponsors to promote to their customers

Used ViewStub ticketing to sell limited access to
in-person games