Cerveza Sol and Banda MS Join Forces on a Virtual Concert Series
Sol Cerveza and Banda MS kicked off a series of three private virtual concerts in the summer of 2020.
In partnership with Mexican beer brand Cerveza Sol, the chart-topping band performed live from Lizos Music headquartered in Mazatlán in July 2020. This was the "first of many" private concerts Banda MS offered virtually during the COVID-19 pandemic.
Each virtual concert was made available to only 1,000 fans who were selected at random after entering a drawing on the concert's official website. While this was the first streaming concert series for them, Banda MS attributes the success of their latest album El Trabajo Es La Suerte to their streaming activity.
Additionally, they hosted a charity event for over 5,000 attendees where they successfully raised over $5,700 for non-profit LULAC (League of United Latin American Citizens).
ViewStub provided the platform for the virtual events, delivering a much-needed outlet for both organizations during the COVID-19 pandemic.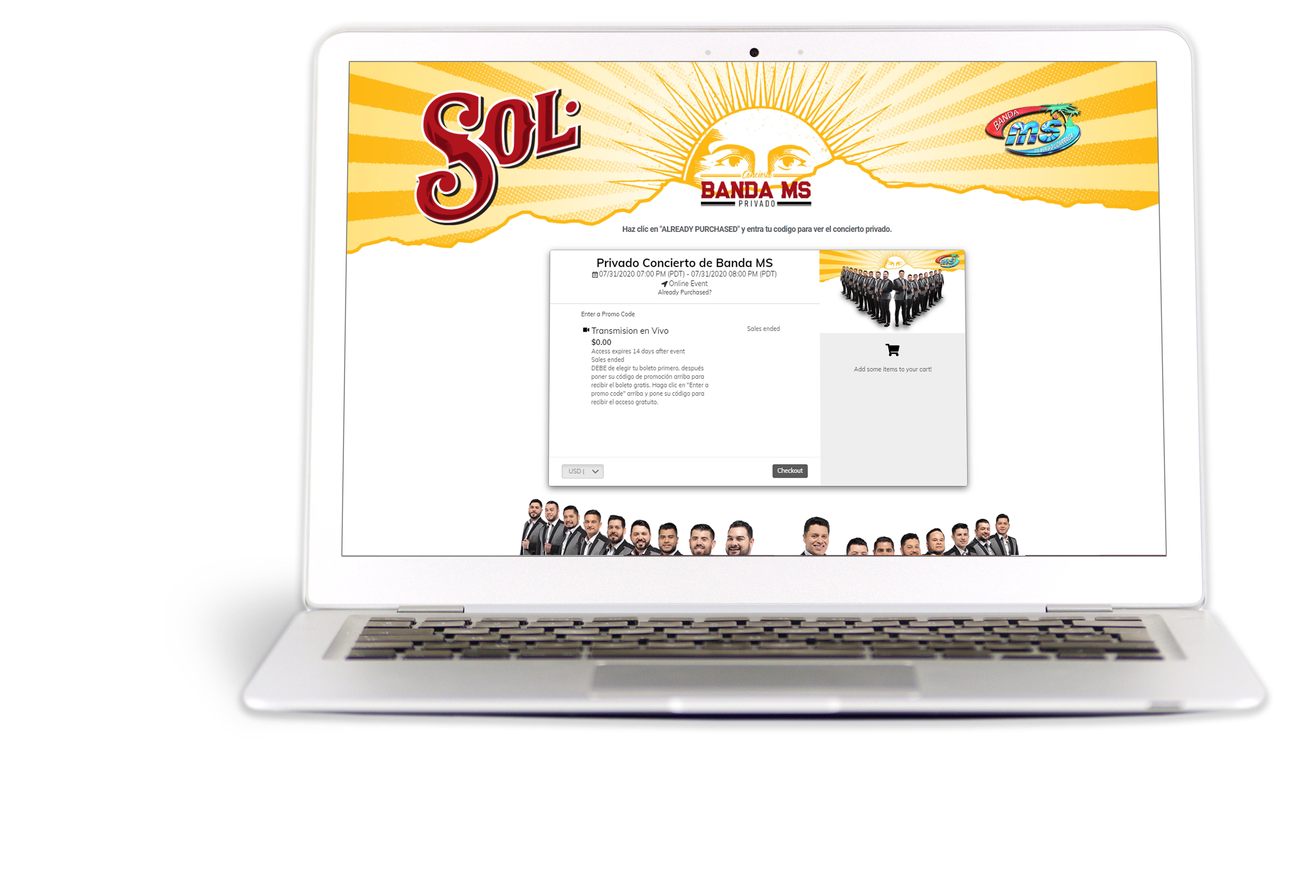 "

Banda MS wanted to offer fans entertainment while they spend time with their families at home.

"
Website: sol.com
Sol is a bright and refreshing lager, born in the heart of Mexico.
Available in over 70 countries around the globe.
Sol was born at the very end of the 19th century in a country still celebrating its newfound independence. An Independence that was fought for by four iconic generals: father Hidalgo, Allende, Guerrero and Morelos.
Legend has it that as the master brewer bottled the first batch of an experimental new recipe, it was illuminated by a ray of sunlight and he decided to name it "El Sol". It was in early 1900 that the brand became the now iconic "Sol." After the acquisition of the brewery "El Salto del Agua", Sol moved to Orizaba in early 1900, where the beer - blessed by using the closest waters to the sun - became a Mexican icon.
Website: bandams.com.mx
Regional Mexican Band
Collaborated with Snoop Dogg on "Que Maldición"
Banda MS, is a Mexican Band that was founded in 2003. The MS stands for Mazatlán, Sinaloa, a Mexican resort town where the band is from. Banda MS was founded by brothers Sergio and Alberto Lizárraga, who are also members of the group. They made their debut in 2004 with their album "No Podrás". Their album Qué Bendición reached number one on the Billboard Latin albums chart in the United States in 2016.
$5,700
Raised for Charity
The Challenge
Banda MS had a busy year planned in 2020, with a new album on the verge of release and a collaboration on a track with rap legend Snoop Dogg. Those plans changed in the spring of 2020 when COVID-19 restrictions and lockdowns forced them to cancel concerts. Banda MS needed a way to engage with fans while offering a safe alternative to attending in-person concerts.
They partnered with Mexican beer brand Cerveza Sol to host a series of virtual concerts, to provide a compelling channel to engage with their audience. They wanted to limit access to the virtual concert to 1,000 fans who entered a drawing on the concert's official website. They needed a way to transfer registered attendees as well as single-use access codes for the selected fans.
The Solution
ViewStub's white label solution – complete branding customization embedded on their website

Unique code ensured single-use access to the event

Live streaming, supporting multi-camera streams

Hosted a donation-based event to allow attendees to contribute their desired amount

Integrated registrations to offer limited access