UMass Hosts a Spring Concert Series, Featuring Quinn XCII, Jason Derulo and Noah Cyrus
Each year, UMass hosts a spring concert exclusively for their students and alumni. The annual student activation concert is typically hosted at the Mullins Center, an indoor arena on campus at UMass. However, in the spring of 2021 they chose to host a series of one-hour concerts online in a virtual setting due to the pandemic and gathering restrictions.
The concert typically has high-end talent and this year was no different. Artists such as Quinn XCII, Jason Derulo and Noah Cyrus were scheduled and promoted as a three show concert series.
They made the switch to virtual three weeks prior to the first show. ViewStub jumped into gear providing a registration portal, secure access codes that would limit access to only UMass students, and a way to connect students during the events through a live chat. ViewStub's customer success team provided platform as well as technical support during the live events.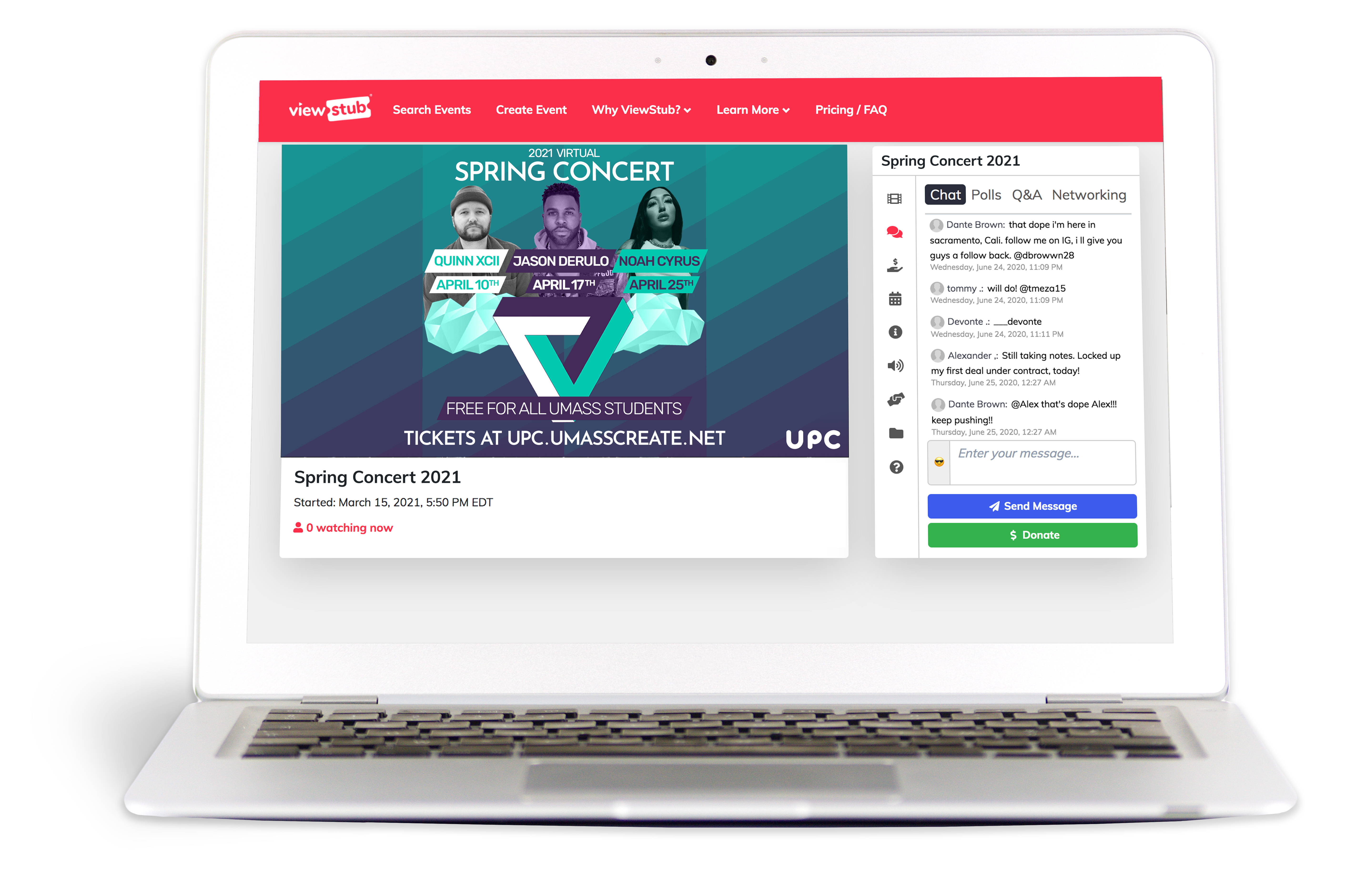 Website: umass.edu
Founded: 1863
UMass Amherst ranks number 26 among more than 700 public universities and colleges.
UMass Amherst is the flagship public university in the Commonwealth of Massachusetts, making a profound, transformative impact to the common good. Founded in 1863, UMass is the largest public research university in New England, distinguished by the excellence and breadth of our academic, research, and community outreach programs.
The university's growing reputation has been reflected in its climb into the Top 30 public, four-year universities in the U.S. News & World Report rankings, in its online MBA program being ranked best in the country and third in the world, and in repeated kudos for having the best food among all American colleges. SAT scores and other benchmarks for incoming students have steadily increased for many years running and show every indication of continuing to do so. And while the campus remains a major economic engine and research resource for the Commonwealth of Massachusetts, its national and international standing and influence continue to grow.
"The ViewStub platform is great, and the team is amazing! They ensured our concert series was a success!"
The Challenge
UMass wanted to host their annual spring concert series as an online event during the pandemic, but needed a way to deliver high-end entertainment along with high production value in a reliable virtual platform. They had never hosted a virtual event of this magnitude before and needed to move quickly with an easy-to-use solution that offered a way to restrict access to only UMass students and alumni.
They initially considered using Zoom, but later realized the output would not deliver the expected quality equivalent to the level of entertainment they were providing. At this point, the first event was three weeks away. They realized they needed a platform that enabled them to "go from zero to sixty" with registration, secure access and a landing page for hosting the events.
The technical requirements for the live stream shows included an easy portal for students to register, a live chat to connect students during the events and an easy-to-navigate platform. They also needed to provide a single, secure access code that each student could utilize for all three shows in the series.
The Solution
Viewing page providing a fast turnaround

Seamless registration for students and alumni

Secure access codes - single code for all three shows

Exclusive access only for UMass students and alumni

1080 streaming, with live chat

The events were streamed live, with multiple cameras